In recent years, the naked-eye 3D LED screen on Chongqing Guanyinqiao Pedestrian Street has also quickly become an internet celebrity punch-in. It's like having a spaceship trying to fly off the screen.
The naked-eye 3D large screen of the Guanyin Bridge in Chongqing is shocking and exciting at the moment of opening. Netizens: Great Chongqing!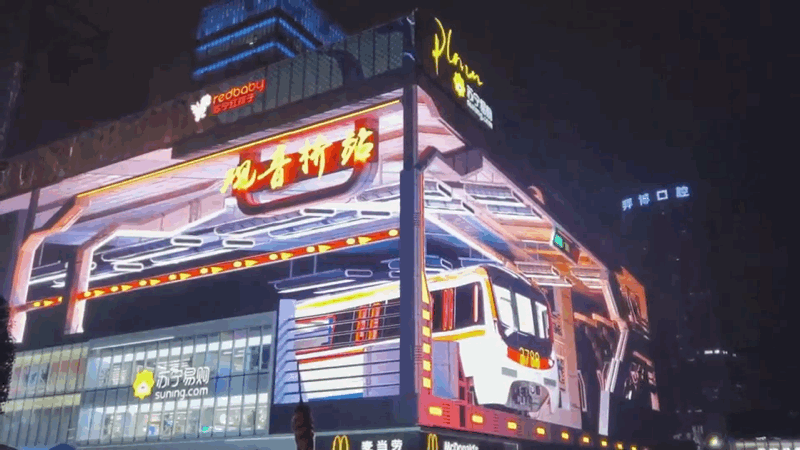 Naked-eye 3D large screen in Chongqing Guanyin Bridge Pedestrian Street is located in Guanyinqiao Pedestrian Street, a hot business district in Chongqing. The excellent location + immersive video = bring people an immersive visual experience.
Cases similar to "Chongqing Guanyin Bridge Pedestrian Street Spaceship" have emerged one after another recently, such as "Chengdu Taikoo Li Spaceship", "Guangzhou Beijing Road Naked Eye 3D Curved Screen" and "Shanghai Aosuo Future City". Once a similar display project is displayed, it will basically cause a great sensation on the Internet. The flexibility and charm of LED display can be fully displayed outdoors or in other specific places, and it has the incomparable advantages of other displays.
From the cases listed above, we have a preliminary concept of 3D LED display. In fact, 3D LED display is a display that can display stereoscopic animation. Unlike traditional LED display, which can only display flat images and animations, So it feels more real.
Development of naked eye 3D outdoor LED display
Once upon a time, we were still worried about the development prospects of outdoor LED displays. Due to the limitations of local policies, outdoor advertising is being cleaned up, and many outdoor displays have become the objects to be cleaned, which also affects the development of outdoor displays.
The audience has long been surprised by the outdoor LED display, lacking freshness, and even received frequent complaints due to light pollution, safety and other reasons.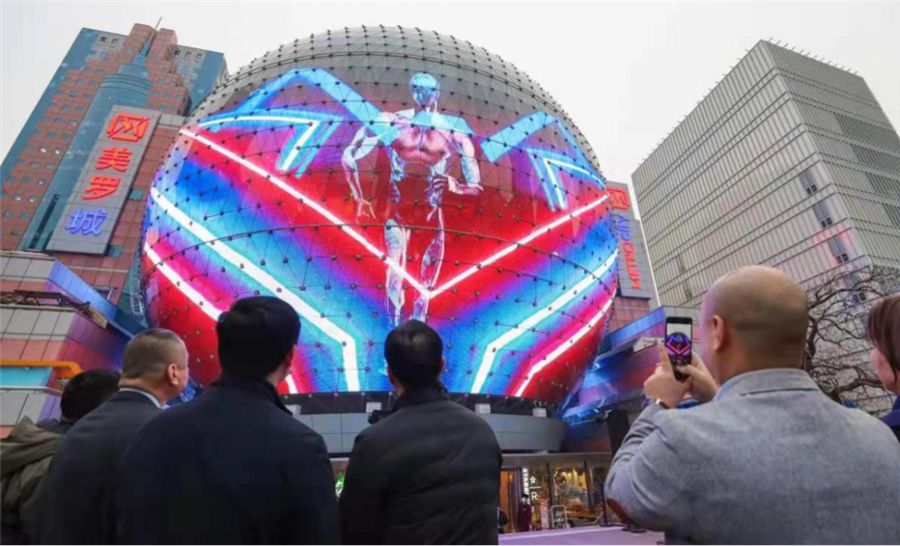 This time, display projects such as "Chongqing Guanyin Bridge Pedestrian Street Spaceship" were unveiled, which refocused pedestrians' eyes on the LED display and set the tone for the future of outdoor LED displays. On the basis of the original screen , integrates a new visual experience, combined with naked-eye 3D display technology, giving people an extremely realistic and highly immersive visual sensory experience.
The popularity of these cases also shows that the visual sensory experience is the necessary factor to determine the outdoor LED large screen to stand out, and the naked eye 3D outdoor LED display is the savior of the outdoor large screen.
The current situation of naked eye 3D outdoor LED display
In recent years, with the rapid development of technologies such as data transmission, virtual reality, and modern enhancement, people's requirements for display are not limited to 2D planes, but a more three-dimensional, higher-definition interactive visual sensory experience. The "Chongqing Guanyin Bridge Pedestrian Street Spaceship" project is a classic case.
The project will be completed and accepted in 2019. However, after delivery and operation, it was only used to play some print advertisements, not from the perspective of visual sensory experience, which made "Chongqing Guanyin Bridge Pedestrian Street" in a state of obscurity.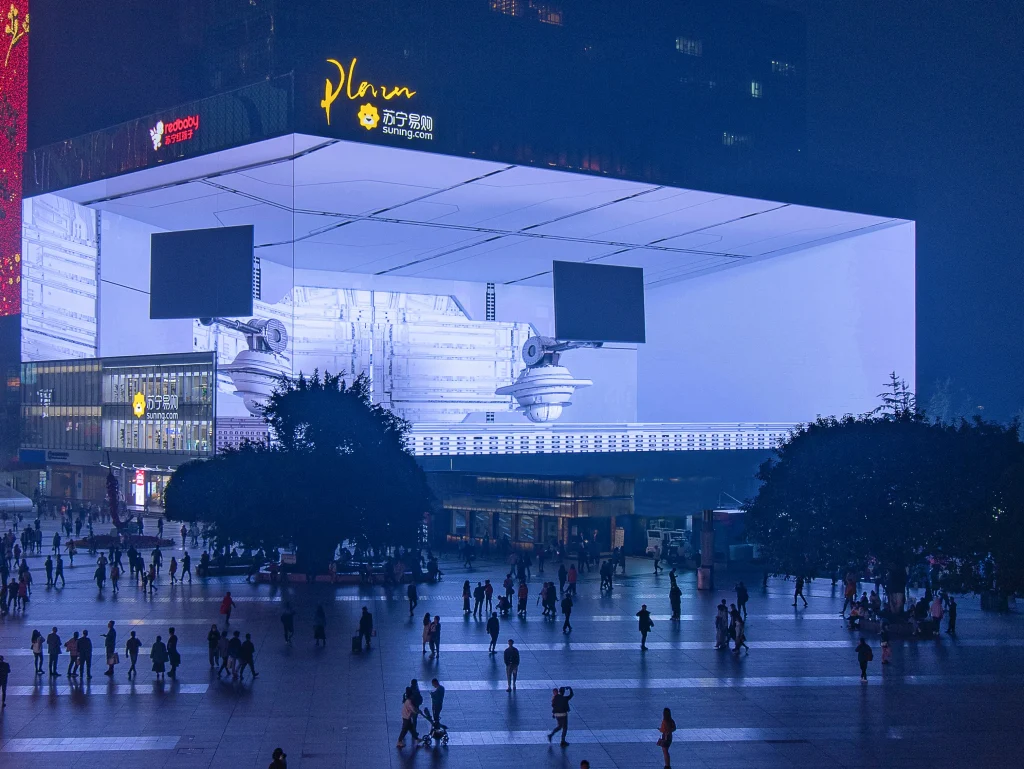 There are countless LED displays that have the same situation as the "Chongqing Guanyinqiao Pedestrian Street Spaceship". Although these displays have originality in shape or appearance, they are often "obsolete because of their lackluster content and lack of visual sensory experience." everyone."
It has to be said that this is also the most realistic portrayal of most outdoor LED displays now. Since the emergence of the wave water tank in the Seoul neighborhood of South Korea, the "pattern" of outdoor LED displays has changed. It is understood that the ocean wave tank in Seoul, South Korea simulates the turbulent picture of the ocean waves, and gives people an immersive feeling through sound effects, light and shadow blending and other forms.
As soon as the Korean wave water tank was launched, it became an Internet celebrity, and even Chinese tourists went to South Korea to shoot this LED display. After testing the water in the wave tank, many domestic companies have launched their own LED displays with the ultimate visual sensory experience. However, this 3D display technology is actually applied in China earlier than in foreign countries. In 2016, Beijing Juntai Department Store created a 3D effect screen. However, due to the lack of suitable visual materials, this LED display with 3D display effect has not shown what it should be.
The future of naked eye 3D outdoor LED display
The centralized screen refresh of several Internet celebrity outdoor display projects not only inspires the outdoor LED industry, but also allows LED display companies who have been fighting hardware parameters to see the advantages of combining software and hardware. If you can't achieve a combination of soft and hard, no matter how good the technical strength is, you can't show it to your heart's content.
The recent rise of naked eye 3D craze shows that sometimes creativity and content are more important. With the widespread application of 5G and 8K technologies, the future of naked-eye 3D high-definition LED displays is even more immeasurable.