Recently, a Coca-Cola 3D LED billboard played on the full-color LED display of a well-known department store in Tianhe, Guangzhou has attracted widespread attention. The advertisement screen first displays a glass curtain wall that simulates the decoration style of a building, and adjusts the screen brightness to match the ambient light. , to the realm of "wall and screen integration", suddenly the "curtain wall" began to shatter, and then a huge dinosaur broke through the "wall", and the visual effect was very realistic and shocking.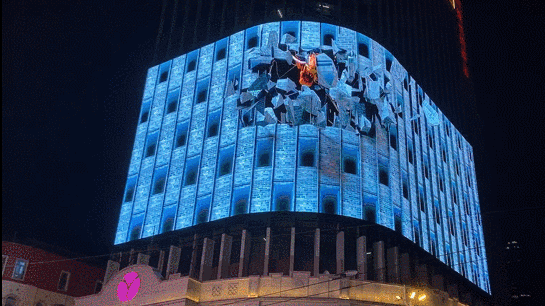 Many people are amazed "Is this the display effect of 3D LED billboard?", "Why is there such a realistic picture, this is too surprising!!"…
While lamenting this amazing effect, many people are also thinking, is this the current popular "naked eye 3D" technology?
In fact, the so-called naked-eye 3D means that the eyes can see two pictures with parallax on the display screen without wearing 3D glasses, and the object images are reflected by the brain, so as to achieve a three-dimensional visual effect. The "3D" effect of Coca-Cola's advertisement is not through technical processing of the playback device, but through the depth-of-field picture with a strong sense of depth and the parallax principle of the human eye, an advertising method that creates a 3D visual illusion.
In the era of eyeball economy, traditional forms of outdoor display have been unable to attract people's attention. To this end, outdoor 3D advertising came into being. It provides an unimaginable and creative way to bring people a new visual impact. It can be said that 3D outdoor advertising is the most intuitive on-site advertising in the world. It relies on realistic effects and gorgeous visual experience to attract consumers, thereby enhancing brand publicity. It has been used by more and more businesses and has become a new model of outdoor advertising investment.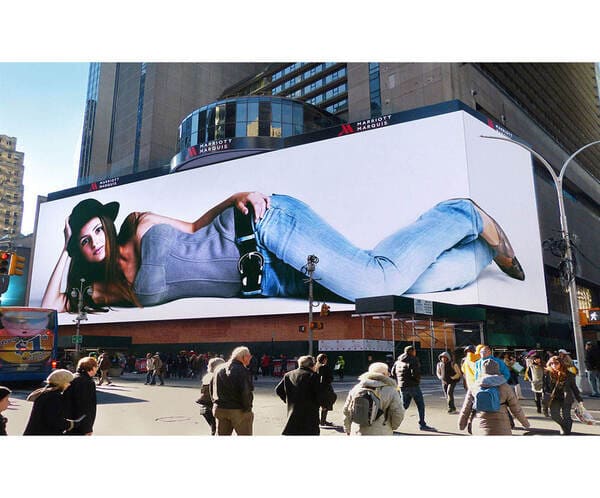 First of all, 3D outdoor advertising enhances the effect of advertising communication and attracts people's attention. 3D advertising itself is a visual game, people's eyes are easily deceived by the illusion it creates, thinking that the scene on the screen is real, making people feel like they are there. Therefore, people are easily attracted to it and stay for a long time, which increases the enthusiasm of people to participate. Secondly, advertising companies and media owners will pay special attention to and apply new media technologies such as 3D technology in order to improve their own level.
In addition, the emergence and development of 3D outdoor advertising is the inevitable result of the development of outdoor advertising technology. The emergence and wide application of each new technology will inevitably lead to production changes in related industries and even the entire society, and the outdoor advertising industry is no exception. Nowadays, in terms of outdoor advertising technology, naked-eye 3D technology is constantly maturing and improving, which will inevitably bring outdoor advertising to a higher level on the original basis.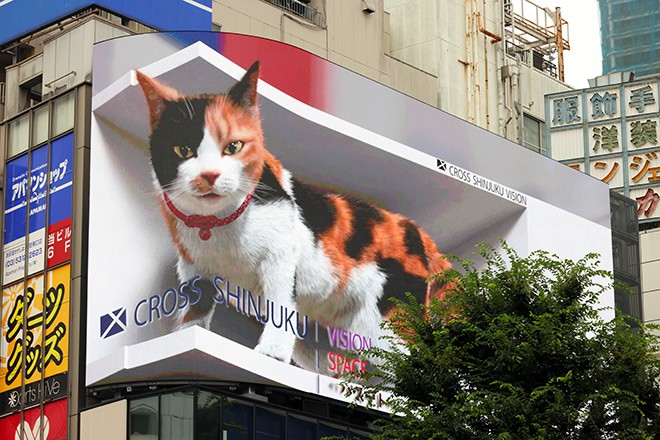 In recent years, LED displays, as the mainstream outdoor billboards in the market, are almost all over the city's streets and alleys, becoming the largest media carrier for advertising. However, there are not many manufacturers that can manufacture 3D LED displays, mainly because 3D The screen has strict hardware requirements for the LED display.
As the leader of domestic LED displays, LED SCREE has built many high-quality outdoor LED advertising screens. These high-quality LED displays with perfect display and stable effect are fully capable of presenting "3D" effects, which is more conducive to the promotion of advertising brands. spread. Just imagine that the 3D effect advertisement is perfectly presented on the outdoor LED display, and its vivid and lifelike pictures will also play a greater role in decorating the city and become a beautiful landscape!
The above is about "3D LED billboard introduction", if you want to know more about 3D LED display, you can click here to see more content
As a high-quality full-color LED display manufacturer, LED SCREE has been focusing on providing LED display, full-color LED display, high-definition full-color LED display, outdoor LED display, indoor LED display sales for 10 years. Full-color LED display The price is more favorable, if you have related needs, welcome to contact us.